CAST-N-BLAST RAISES RECORD $25,000 FOR CARL PERKINS CENTER
April 26, 2022
@ 8:59 am
Shannon McFarlin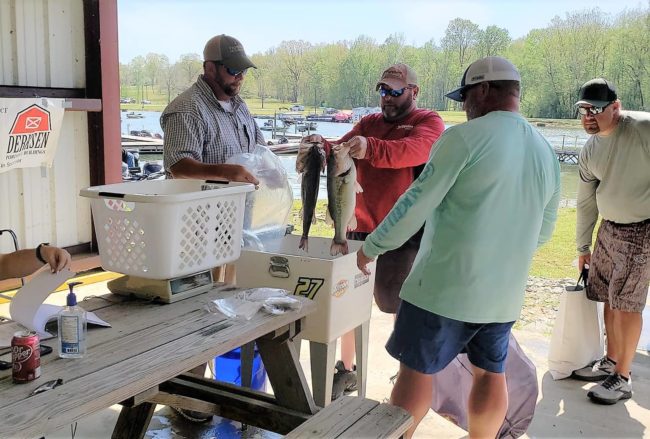 Paris, Tenn.–It was one for the record books, with perfect weather contributing to the large turnout and record amount raised at Saturday's annual Cast-N-Blast at Paris Landing State Park. The Cast-N-Blast benefits the Henry County Carl Perkins Center for the Prevention of Child Abuse.
A record 39 boats, 14 kids in the Fishing Rodeo, and four Turkey Teams participated this year.
Director Carly Wheat said, "This was the best year yet raising over $25,000. Saturday was a warm, sunny, and windy day and a great turn out at the kids fishing rodeo."
1st place winners of $2000 were Jake Lawrence and Aiden Lawrence with a catch of 19.91 lbs.
TWRA and Birds of Prey on site made for a fun event, she said. "Many thanks to the Tournament Director Chris Davis, HCSO, staff, volunteers, and many generous sponsors who made the event possible!"
Weigh in totals for Cast-N-Blast:
1st place $2000- 19.91 lbs Jake Lawrence and Aiden Lawrence
2nd place $900-19.37 lbs Steve Clenney.
3rd place $600- 18.95 lbs Eric Law and Eric Shelton
4th place $300- 16.61 lbs Barry Arnold and Jammey McCord
5th place $250- 16.42 lbs Coy Small and Sam Small
6th place $150- 15.85 lbs Tommy Milranney and Thomas Milranney
7th place $125- 15.82 lbs Marshall Russell and Hunter Garrett
8th place $100- 15.66 lbs Dillion McGee and Michael Gaskin
9th place $75- 15.39 lbs Rob Vannerson and Pete Holmes
10th place $50- 13.65 lbs Jack Hehn and Kevin Ray
*Big fish $250- 6.62 lbs Barry Arnold and Jammey McCord